French politicians join 100,000 at Paris march against antisemitism | France | The Guardian
Category: News & Politics
Via:
perrie-halpern
•
2 weeks ago
•
0 comments
By:
jonhenley (the Guardian)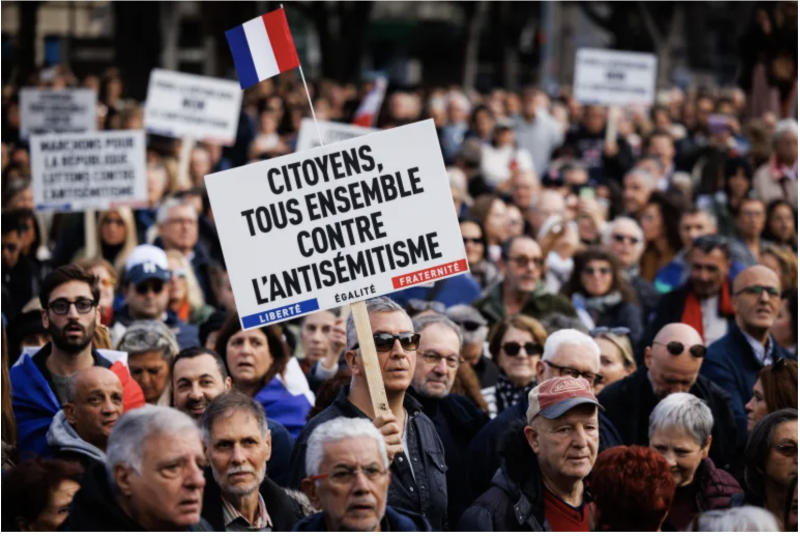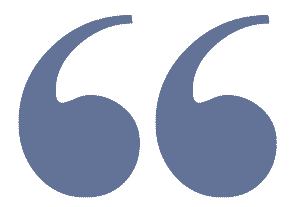 Parties on left and right argued over event attended by former presidents and Marine Le Pen - while Macron stayed away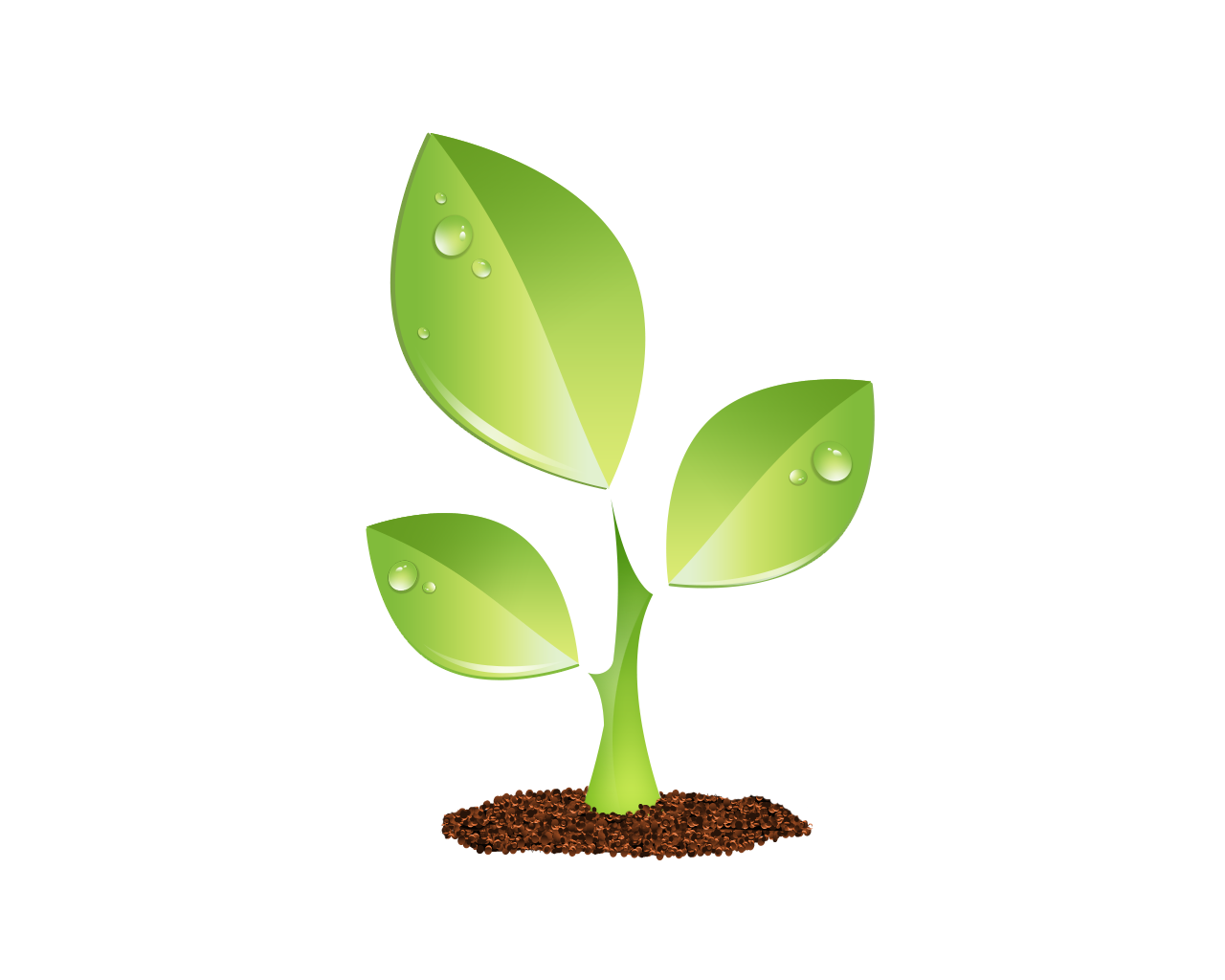 S E E D E D C O N T E N T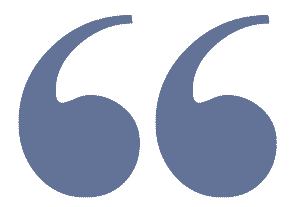 Parties on left and right argued over event attended by former presidents and Marine Le Pen - while Macron stayed away
More than 100,000 people, including senior politicians, have marched in Paris against antisemitism amid a dramatic surge in anti-Jewish incidents across France and bitter political rows over whether - and how - to take part.
"Our order of the day today is … the total fight against antisemitism, which is the opposite of the values of the Republic," Gerard Larcher, the French senate speaker and a co-organiser of the largely peaceful demonstration, said as it got under way.
His counterpart in the lower house and the march's co-organiser, Yael Braun-Pivet, said as the march neared its end near the Luxembourg Garden: "In France, we are able to unite around our common base, our history and our future."
The prime minister, Elisabeth Borne, whose Jewish father survived Auschwitz but took his life when she was 11, said at the head of the procession that when it came to antisemitism, the nation "must let nothing pass".
More than 3,000 police were deployed along the route of what the interior minister, Gerald Darmanin, called a "great civic march", which ultimately was marred only by minor scuffles as a leftwing Jewish group tried to stop far-right party leaders joining.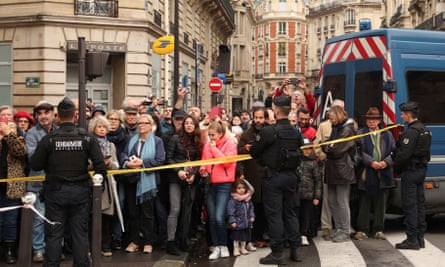 The march took place without much disturbance, with only a few scuffles marring the procession.
Tensions have been mounting in France, which is home to Europe's largest Jewish and Muslim communities, since the 7 October attack by the Palestinian militant group Hamas on Israel and Israel's subsequent month-long bombardment of the Gaza Strip.
Nearly 1,250 antisemitic acts have been recorded since the start of the conflict - nearly three times as many as in all of 2022 - and more than 70 demonstrations against antisemitism took place around the country on Sunday, including in cities such as Strasbourg, Lyon and Marseille.
Emmanuel Macron, the French president, did not take part but said earlier he would be there "in my heart and in my thoughts", adding that there could be "no tolerance for the intolerable" and France must be "united behind its values, its universalism".
In a letter published in Le Parisien newspaper, Macron condemned the "unbearable resurgence of unbridled antisemitism" in France. "A France where our Jewish citizens are afraid is not France," he said.
Two previous presidents, Francois Hollande and Nicolas Sarkozy, and several former prime ministers did join the Paris march, as well as several well-known figures such as the former footballer Lilian Thuram and the bestselling author Marc Levy.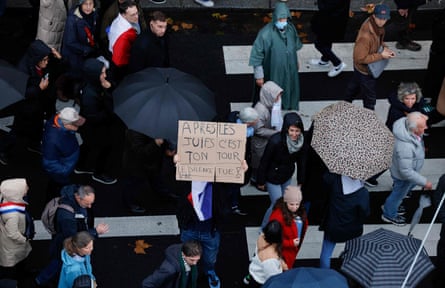 One person held a banner at the march which read: 'After the Jews it's your turn. Your silence kills'.
Family members of some of the 40 French citizens killed in the initial Hamas attack on 7 October, and of those missing or held hostage, also took part.
The event divided France's political class, with the attendance of the far-right National Rally (RN), whose recent support for Israel has been widely seen as an opportunistic attempt to bury its antisemitic past, drawing widespread criticism.
The party's leader, Marine Le Pen, said the march should also mark resistance to "Islamic fundamentalism", one of her party's key talking points. She described objections as "petty political quibbles" and said the party was "exactly where we should be".
But the French government's spokesperson, Olivier Veran, called the RN's attendance "indecent". The far-right party was originally called the National Front and was founded by Le Pen's father Jean-Marie, a convicted Holocaust denier.
The Communist party leader, Fabien Roussel, refused to march alongside the anti-immigrant party's MPs, saying it had been founded by people who were "repeatedly condemned for antisemitic remarks" who "collaborated" with Nazi Germany.
Socialist and Green MPs, along with trade unionists and youth groups, also marched but under a separate banner, distancing themselves as far as possible from the RN and other representatives of the far right, including the anti-immigrant polemicist Eric Zemmour, who were surrounded by bodyguards.
Although some dissenting MPs from the radical left party Unbowed France (LFI) attended a march in Strasbourg to which the RN was not invited, it boycotted the Paris march after its leader, Jean-Luc Melenchon, described it as a gathering for "friends of unconditional support for the massacre" of Palestinians in Gaza.
Marine Le Pen, leader of the National Rally, described objections to the far-right party's presence at the march as 'petty political squabbles'.
Manuel Bompard, a leading MP for Unbowed France, said after the march that it had served "only to whitewash the far right and to unleash hate speech against Muslims".
Borne, who called the fight against antisemitism a "vital battle for national cohesion", criticised what she called "political posturing" around the march on Sunday. "The absence of Unbowed France speaks for itself," the prime minister said, while "the presence of the National Rally fools nobody".
The leader of LFI's parliamentary group, Mathilde Panot, and several other of the far-left party's MPs attended a demonstration in Paris on Saturday calling for an immediate ceasefire and a "halt to the massacre in Gaza".
Hamas's attack killed about 1,200 people in Israel, while an estimated 240 were taken hostage, according to Israel. Israel's subsequent air and ground campaign has left more than 11,000 people in Gaza dead, according to the Hamas-run health ministry.