Beleaguered DeSantis falls further behind Trump in Florida, poll shows
Category: News & Politics
By:
kavika
•
3 weeks ago
•
45 comments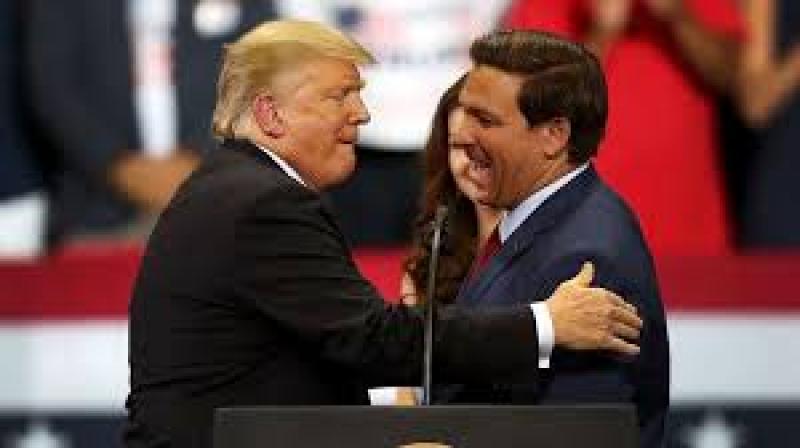 A new poll shows Florida's hard-right governor Ron DeSantis falling even further behind Donald Trump in his own state, one day before the embattled candidate for the Republican presidential nomination takes the debate stage in Miami.
The study by the University of North Florida (UNF)   published Tuesday   shows DeSantis trailing Trump by 39 points (60-21) among Republican Florida voters, with former South Carolina governor Nikki Haley a distant third at 6%.
Related:  Iowa governor breaks neutrality to endorse Ron DeSantis for president
A   July poll   by Florida Atlantic University gave Trump a 50-30 lead over DeSantis in a similar hypothetical primary election.
In a straight head-to-head match up, Trump holds a 59-29 advantage, with 12% not making a choice, according to the new UNF study.
"Despite historically high approval in the polls, Governor DeSantis losing steam in his home state doesn't bode well for his national campaign," said Michael Binder, professor of political science at UNF and director of its public opinion research lab.
"Even if you wipe out the rest of the competition in a head-to-head, Trump leads DeSantis by 20 points."
The Florida poll reflects DeSantis's   plunging popularity   nationally as he struggles to keep his once-healthy campaign afloat. But the dip in his own state, where he was re-elected governor one year ago by a margin of 20%, will be particularly galling.
Trump, who will be hosting a rival rally in Hialeah on Wednesday night only a few miles from the downtown Miami debate stage, has seized on DeSantis's stumbles, calling him "a wounded bird falling from the sky" in campaign messaging.
Haley, too, has also mocked DeSantis during a   recent surge in her own popularity   to an unlikely position as leading alternative to Trump in several early primary states.
"We'll see if he can run in them,"   she said   of DeSantis's campaign appearances in cowboy boots reportedly containing height-boosting hidden heels, amid more serious attacks over his foreign policy relating to the Ukraine and Gaza conflicts, and China.
DeSantis did pick up the   endorsement of Iowa's governor Kim Reynolds   on Monday night, but has struggled to find influential Republican backing in Florida. Rick Scott, his predecessor as governor and now the state's junior senator, came out for Trump last week, followed by the   defections of five Florida legislators   previously in the DeSantis camp.
"Weakening DeSantis's standing in Florida is a clear objective of the Trump campaign," Alex Conant, a Republican strategist, told the Associated Press over the weekend.
"His entire message is built on the idea that he is a terrific governor. When Republican officials in Florida are choosing Trump over DeSantis, it really weakens the core of DeSantis's pitch."
Link to article: https://www.msn.com/en-us/news/politics/beleaguered-desantis-falls-further-behind-trump-in-florida-poll-shows/ar-AA1jxAd7?ocid=hpmsn&cvid=343eccf01df2458e9d26efea64176314&ei=19