The Iron Horse - A Rez Boys Adventure
Category: News & Politics
By:
kavika
•
3 weeks ago
•
69 comments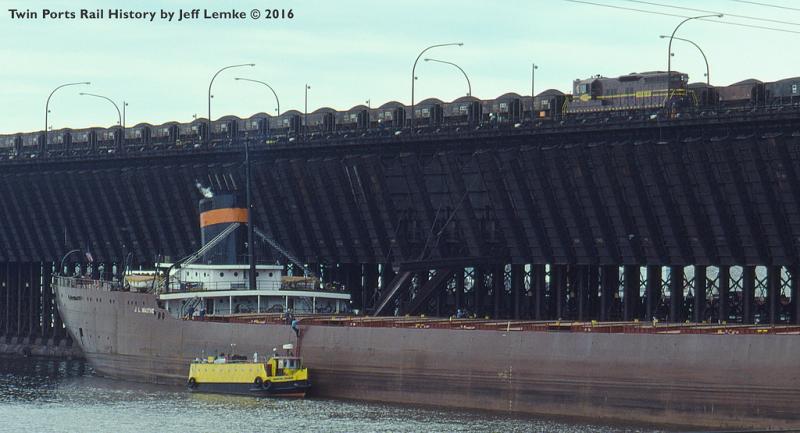 Many years ago, before many of you were born, it was a great sport and also our main form of transportation for us to ''jump'' the ore trains.  Jumping the ore trains was complicated and dangerous. It required us to run alongside an ore train that was still gaining speed and be careful not to trip on the railroad ties while looking for a post or ladder rung to grab onto and swing ourselves up onto the huge beast. All of this required great coordination and a certain amount of bravado mixed with an equal amount of stupidity. The easiest time to jump a train that was just coming out of the roundhouse but as easy as it was there were the yard dicks that would beat your ass with a billy club so it was the more dangerous area after it had left the main switching area and was gaining speed. 
The great ''Iron Range'' of northern Minnesota. The Mesabi, Vermillion, Cuyuma, and Gunflint made up the Iron Range. Red iron ore was the treasure here and there were numerous mines both underground and open pit with dozens of ore trains running in and out of the area 24 hours a day, seven days a week. The beasts could be one hundred cars long as they snaked their way down to Duluth and the ore docks where where the iron ore was dumped into ore boats that would head across Lake Superior to ore mills in the surrounding states. 
My two brothers and I would spend the best part of summer ''jumping'' ore trains to points unknown to us. Generally not far, since our world was about 5 miles in any direction.
It was July in the early 1950s when the three of us set off on our great adventure. Having had years of experience jumping ore trains, the day started out as any other. It would be a fun day riding around the countryside, and being home by supper. It was not to be.
We started out walking from our house to the local ''Roundhouse'' at Kelly Lake, an area where trains switched and we could jump one after it had left the roundhouse and switching yard and before it reached full speed.  After a walk of three miles, we had it in sight, we waited by the railroad tracks for the first train to come by.
Looking down the track here she came, huffing and puffing as she gained power, black smoke billowing from her stacks. It was a ''Great Northern Railroad engine, the one with the mountain goat for an emblem. As she came closer and closer to us, the huge ''cow catcher'' pushing out the front of her, she was bellowing, smoke pouring from her stacks and we could hear the clackity clack of her huge steel wheels running over the rails. She was big, powerful, and scary.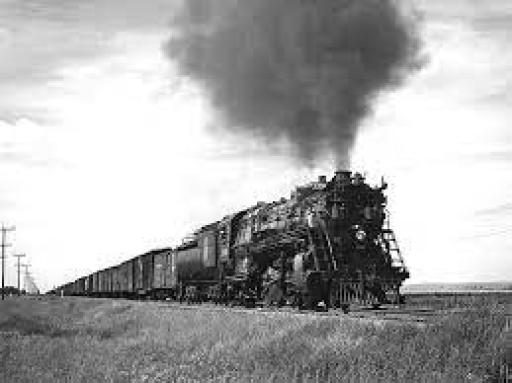 We were excited and scared at the same time, this monster of a train was heading right at us. As she passed the noise was tremendous and deafening, the trees shook driving the birds to seek refuge far away.. Huge steel wheels went by our heads and we looked up and could see the engineer leaning out the side, looking ahead and the ''fireman'' was shoveling coal into her. She was beautiful and frightening at the same time, she was the most powerful thing on earth.
As she roared by us the ore cars tagged along behind this beauty. One hundred cars long, the red ore piled high in each, as she gained power, she ate up the tracks.
Now was the time, we started running alongside her, reaching out to grab a ladder to swing ourselves up, a slip meant death. Our hearts were pounding, our lungs felt like they were going to burst. Finally, I reached up and grabbed a post and my fingers felt like they were digging into the steel of the post. Two more steps and time to swing myself up my other hand grabbing the post and my feet floating free for a minute until I could get them caught up to the rest of my body. Now both hands had a firm grip and my feet were on the ladder.  Reaching back I reached for my brother's wrist, grabbing his wrist not his hand. As my hand locked around his wrist he had grasped my wrist we were locked in, now to swing him up so he would help our third brother. Soon we were all safely aboard rolling thunder. 
Now we were King of the Rails. She was our Iron Horse, massive, powerful, without equal, one that would make us free. She was hurling down the tracks, gaining speed with every turn of her mighty steel wheels. The trees on each side of the tracks were becoming a blur and she roared down the tracks.
Still gaining speed, her whistle blew out a warning to all. ''Do not challenge me''.
We were holding on for dear life as she roared through a railroad crossing, the cars looking like tiny toys next to her. The people in the cars were waving to us and we waved back.
Freedom was ours on the back of this powerful being, we knew that she was alive, we had become part of her, our fear leaving us as we screamed in joy, we are the King of the World.
Soon we were on the outskirts of a town about ten miles from our start. She was not slowing down, she was gaining speed. Her giant wheels taking bites out of the track, smoke from her stacks, thick and black, her whistle screaming at the heavens. We were riding the most powerful being in the universe.
We looked at each other, the same thought ran through our minds, we were headed to the ore docks on Lake Superior over a hundred miles away. She wasn't going to stop, this was not one of the local trains this was a one-way ride on the back of Iron Horse, nothing could stop her. 
Hours later we could see the ore docks, we had to get off or risk being killed when they dumped the cars. As she slowed down we jumped and hit the ground with a thud and rolled and rolled finally coming to a stop in some brambles.  Looking at each other not knowing if we were dead or alive we started checking to see if we still had all of our body parts.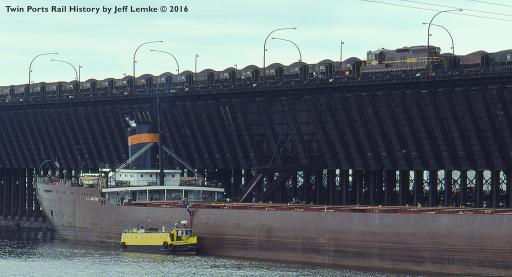 Soon we realized that we were in a world that we had never seen before. 120 miles from home in the port city of Duluth. The only way home was to ''jump'' another train and hope that it was headed in the right direction.
That night we waited for a ''Great Northern'' engine to come our way. We waited and waited, soon the sun was coming up and a whole night had passed.
Here she came, huffing and puffing gaining speed for her trip back to the ore mines. We ran alongside her and jumped aboard. The ride back was mixed with excitement and knowing that we were in big trouble.
Hours later we were coming up on the ''Round House'' in Kelly Lake, as she slowed down we jumped again, landing with a resounding thud, we were still in one piece.
Now the long walk home and what awaited us there. We had been gone for over 24 hours and our parents must be out of their minds with worry.
We were right, our parent's anger mixed with fear for us and them not knowing what had become of us was devastating for them, right up until the time dad tanned our asses with great enthusiasm.
For 24 hours we were free, riding the rails, the power of the engine was our lifeblood. We had mastered the Iron Horse and we truly were Kings of the Rail.
It was worth it.
Kavika 2013. All rights reserved